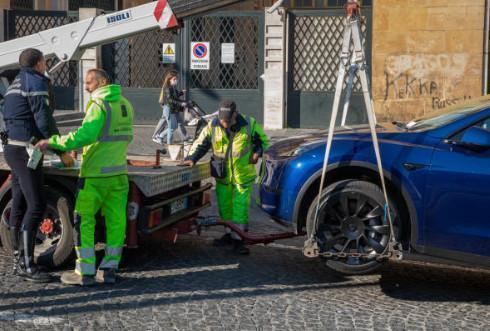 Can Law Enforcement Impound a Vehicle Solely for Unpaid Parking Citations? New Case Law Clarifies
CAC00113
Rules
The warrantless impoundment of a vehicle for unpaid parking citations violates the Fourth Amendment. The Community Caretaking Doctrine does not provide an exception to this rule absent evidence that the vehicle in question is parked illegally, blocking traffic or passage or stands at risk of theft or vandalism. 
The deterrent effect of towing vehicles with unpaid parking citations is insufficient to bring it within the scope of the community caretaking exception. Also, the towing of cars with outstanding unpaid parking citations is not justified as a graduated forfeiture process. 
Facts
Vehicle Code § 22651(i)(1) provides statutory authority for the towing and impoundment of any vehicle "found upon a highway or public land" whenever "it is known that the vehicle has been issued five or more notices of parking violations to which the owner or person in control of the vehicle has not responded within 21 calendar days" of issuance. 
Subdivision (i)(3) provides for a written "warning that repeated violations may result in the impounding of the vehicle" that is to accompany a notice of a parking violation, i.e., when the car is cited.   
Once a vehicle has been towed, local authorities may keep it in storage until the fines for the outstanding tickets are paid (V.C. § 22651(i)(1)(C)) or a "hearing examiner" rules that the person is not required to pay for the parking violations. (V.C. § 22651(i)(3)). During such a hearing, "the storing agency shall have the burden of establishing the authority for, and the validity of, the removal." (V.C. § 22650(c))  
Absent a ruling from the hearing examiner in favor of the vehicle's owner, "the vehicle may be sold...to satisfy" liens for towing and storage, and for the outstanding parking violations. (V.C. § 22851.1(a))  
The plaintiff/appellant in this lawsuit, the Coalition on Homelessness, sued to prevent the City and County of San Francisco (the defendant/respondent) from towing vehicles under the authority of the above statutes, absent San Francisco's compliance with the rules as provided for under the Community Caretaking Doctrine. The trial court denied the plaintiff/appellant's motion for a writ of mandate and declaratory and injunctive relief. In other words, the lawsuit as filed by the Coalition on Homelessness was dismissed. The Coalition appealed.